New 640-878 exam questions from PassLeader 640-878 dumps! Welcome to download the newest PassLeader 640-878 VCE and PDF dumps: http://www.passleader.com/640-878.html (140 Q&As)
P.S. Free 640-878 dumps are available on Google Drive shared by PassLeader: https://drive.google.com/open?id=0B-ob6L_QjGLpU3VHYVJYeUFmQlk
QUESTION 66
Which three statements about VLAN implementation in a Layer 2 switch environment are true? (Choose three.)
A.    The Cisco IOS switchport access vlan interface configuration command is used to configure the native VLAN on the switch port.
B.    802.1AD supports VLAN overlap.
C.    VLANs can span across multiple switches.
D.    802.1Q encapsulation is used to identify different VLANs on a trunk port.
E.    Inter-VLAN routing is performed between VLAN tunnel ports.
Answer: BCD
QUESTION 67
Refer to the configuration example exhibit. Which statement is true?


A.    A trunk port has been created and VLAN has been allowed.
B.    An access port has been created on a UNI.
C.    A customer VLAN of 209 is configured.
D.    A QinQ VLAN of 118 is configured.
Answer: D
QUESTION 68
Which two statements about the link state routing process are true? (Choose two.)
A.    It uses the DUAL algorithm.
B.    It uses metrics such as AS path.
C.    All routers in the area have link state databases.
D.    The administrative distance is 1 by default.
E.    Each router in the area floods LSPs to all neighbors.
Answer: CE
QUESTION 69
Which two statements about carrier-grade NAT are true? (Choose two.)
A.    It conserves IPv4 addresses.
B.    A service provider issues private IP addresses to its customers.
C.    A service provider translates the private IP address of its customer to another private IP address.
D.    It is implemented on the CE and PE routers.
E.    It is designed to simplify IPv6 addressing.
Answer: AB
QUESTION 70
Drag and Drop Question
Drag and Drop the RSTP port roles on the left to the correct description on the right.

Answer: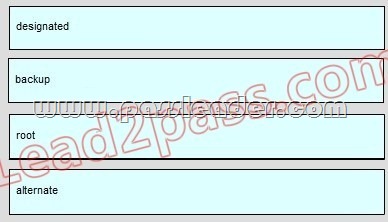 ---
New 640-878 exam questions from PassLeader 640-878 dumps! Welcome to download the newest PassLeader 640-878 VCE and PDF dumps: http://www.passleader.com/640-878.html (140 Q&As)
P.S. Free 640-878 dumps are available on Google Drive shared by PassLeader: https://drive.google.com/open?id=0B-ob6L_QjGLpU3VHYVJYeUFmQlk